Obama going off the deep end...
Comments 44
Recommend 91
Floyd and Mary Beth Brown, Commentary
April 9, 2010 - 11:09AM
ABSOLUTELY, SHOWING MORE THAN SYMPTOMS OF SEVERE STRESS-- OVER-THE-LINE, SYMPTOMS MENTAL ILLNESS!!
A recent analysis by Roger Simon of PJTV Media maintains that Obama is showing signs of mental illness. A wide variety of commentators have observed that Obama displays severe narcissism. Obama is conceited, and he is demonstrating a serious disassociation from reality.
Recently Obama GAVE A WILDLY bizarre and meandering 17-minute, 2,500-word answer to the simple question about how he could justify raising taxes for ObamaCare during a recession when citizens are already overtaxed.
Obama's wildly inappropriate answer left the audience stunned.
This lapse of delusion occurred in front of a friendly audience. Overall, Barack Obama seems to be slipping into a slightly more delusional state these days.
Story continues here...
http://www.eastvalleytribune.com/story/152636
BUT WAIT...
French Leader Sarkozy Slams Obama, Warns He Might Be Insane
Posted by Europe on Apr 09, 2010 | 97 Comments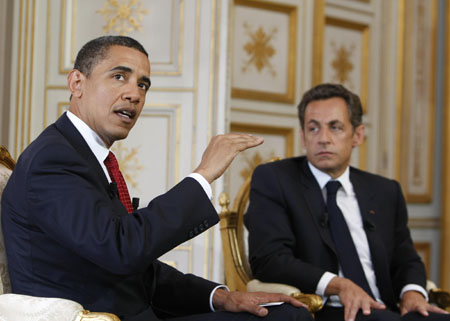 French President Nicolas Sarkozy [photo top right with Obama] as stating that President Barack Obama is "a dangerous[ly] aliéné", which translates into his, Obama, being a "mad lunatic", or in the American vernacular, "insane".
According to this report, Sarkozy was "appalled" at Obama's "vision" of what the World should be under his "guidance" and "amazed" at the American Presidents unwillingness to listen to either "reason" or "logic". Sarkozy's meeting where these impressions of Obama were formed took place nearly a fortnight ago at the White House in Washington D.C., and upon his leaving he "scolded" Obama and the US for not listening closely enough to what the rest of the World has to say.
Full article:
http://www.eutimes.net/2010/04/frenc...ght-be-insane/